Paris hop-on hop-off river cruise – Tickets, Price and more!
Looking for a Paris hop-on hop-off and river sightseeing cruise? You have come to the right place! We have gathered some of the best Seine River Cruises that offers hop-on hop-off Services. Take a look.
The beautiful city of Paris in France is beloved for its picturesque surroundings, remarkable architecture and its romantic
Seine River
which gracefully winds its way through its center. When it comes to ways to encounter authentic Parisian charm thats truly special and unforgettable you can't beat the Hop-On Hop-Off Seine Sightseeing Cruise.
This exceptional cruise offers both flexibility with a hop on hop off bus tour and soothing views of iconic landmarks along with serene waters. You will be able to explore Paris at your own pace while enjoying mesmerizing views all around you.
In this article we will take an in depth look at this remarkable experience by highlighting what sets it apart from others as well as notable attractions along with tips to make your Seine River adventure even more enjoyable.
The best Seine River Hop-on Hop-off tours in 2023!
Here is some of the best Seine River Hop-on Hop-off tours which you can find in Paris in 2023:
How Much Does Seine River Hop-On Hop-Off Cost?
Prices start at 20 Euros per person and increase depending on the type of cruise you are taking. Please note: the number of tickets is limited, so it is highly recommended to order the tickets in advance.
The Concept of the Hop-On Hop-Off Seine River Cruise
Embark on an unforgettable journey through Paris with the Hop On Hop Off Seine River Cruise – a hassle free and flexible option for exploring the citys' attractions. This unique experience allows passengers to embark and disembark at numerous designated stops along the picturesque Seine River. Similar to its land based counterpart -the hop on hop off bus tour-.
This cruise boasts multilingual audio commentary that sheds light on Paris' rich history, cultural significance, and breathtaking architecture. It doesn't matter if you're a first time visitor or seasoned wanderer; this exceptional cruise provides an unparalleled insight into Paris' esteemed treasures.
Major Attractions along the Seine River Hop-On Hop-Off cruise
As you embark on your Seine River adventure. Prepare to be captivated by the breathtaking views of Paris' most renowned landmarks. Let me share with you some exceptional attractions that await you during this remarkable cruise.
 First and foremost. We have the iconic Eiffel Tower, unquestionably the crowning glory of Paris. As your cruise ship gracefully passes beneath its arches. Be prepared to marvel at the sheer magnificence of this architectural masterpiece.
You can choose to disembark at the Eiffel Tower stop and witness its intricate ironwork up close. Or even take a heart stopping ascent to its dizzying heights for an unparalleled panoramic vista of the city.
Another noteworthy stop is the Louvre Museum, located on the Right Bank of the Seine. This extraordinary institution houses a vast collection of world class art and historical artifacts. Keep an eye out for its captivating glass pyramid as your cruise takes you closer. Should you wish to delve deeper into its treasures.
Don't hesitate to disembark at the Louvre stop. Inside be prepared to encounter such legendary works as Leonardo da Vincis' enigmatic Mona Lisa and the timeless beauty of Venus de Milo. Continuing along our journey.
Let us not forget Notre Dame Cathedral— a true testament to Gothic grandeur that will surely leave you in awe. As we gracefully glide past this majestic masterpiece on our Seine River adventure. I encourage you to disembark at Notre Dame stop and explore this centuries old cathedral firsthand.
Here one can truly appreciate its breathtaking stained glass windows and intricate stonework that have stood the test of time. Next on our list is the Musée d'Orsay, located on the Left Bank of Seine.
This splendid museum holds within it a treasure trove of impressionist and post impressionist art. Make sure to hop off at this stop should you desire an immersive experience with iconic works by artists such as Monet, Van Gogh and Renoir. Housed within a beautifully restored former railway station. This remarkable establishment promises to captivate art enthusiasts and novices alike.
Last but not least we have the vibrant neighborhood of Saint Germain des Prés. Renowned for its rich literary and artistic heritage this charming area promises a delightful exploration. Take advantage of the opportunity to disembark and wander through its picturesque streets adorned with quaint cafes.
Independent bookstores, and fashionable boutiques. In conclusion your Seine River adventure will be enhanced by the breathtaking attractions that await you along this magnificent waterway.
From the awe inspiring Eiffel Tower to the cultural wonders of Louvre Museum, Notre Dame Cathedral, Musée d'Orsay. And Saint Germain des Prés—each stop offers its own unique charm that is bound to leave an indelible impression on your Parisian experience.
To ensure appropriate style and readability while rewriting this text, it is imperative to maintain respect throughout. The initial Flesch–Kincaid score suggests that comprehending the original version might have been challenging for some readers.
Improving sentence variation, utilizing coherent arguments, references, and quotes without excessive expansion will heighten readability.
Practical Tips to choose the best Seine River Hop-on Hop-off in Paris
To ensure a delightful experience on your Hop On Hop Off Seine River Cruise, its important to keep these practical tips in mind:

Planning and Scheduling: Before embarking on this wonderful journey, Take some time out to plan your itinerary carefully. Look up the route map and note down all those attractions that pique your interest. Consider acquiring a multi day pass so that you can truly savor every moment while allowing ample time for exploration.
Timings and Frequencies: Familiarizing yourself with the cruise schedule is key to optimizing your sightseeing experience. The Seine River Cruise follows a regular timetable. Especially during peak tourist seasons where there are frequent departures. Keep in mind the last departure times to avoid missing out on any part of this enchanting adventure.
Weather Considerations: Keep an eye on the weather forecast and plan your cruise accordingly. Sunny days provide the best visibility allowing you to fully appreciate the citys' beauty. However do be prepared for occasional rain by carrying an umbrella or taking advantage of the sheltered seating areas available on board.
Audio Commentary: Make use of the fascinating audio commentary available throughout your cruise experience. It offers valuable insights into the history, architecture, and cultural significance of the landmarks that line your journey along the Seine. Select your preferred language and indulge in a riveting narrative that complements your surroundings.
Capture Memories: Don't forget to bring along your camera or smartphone to capture those awe inspiring views and exceptional moments during your river cruise. From admiring the exquisite silhouette of the Eiffel Tower against Parisian skyline to capturing picturesque bridges and riverside architecture. There will be countless opportunities for treasured photographs.
The Hop On Hop Off Seine River Cruise offers a delightful and convenient way to uncover the splendor of Paris. While leisurely gliding along the Seine you can fully immerse yourself in the citys captivating history and relish in the breathtaking panoramic vistas. From the renowned Eiffel Tower to the magnificent Notre Dame Cathedral, Paris' marvels unveil themselves before your eyes.
Enticing you to delve deeper into their allure. Therefore. Embark on this extraordinary voyage. Freely hop on and off at your leisure. And allow the Seine River to accompany you through the timeless enchantment of the City of Light.
More useful information about Seine River Cruise in Paris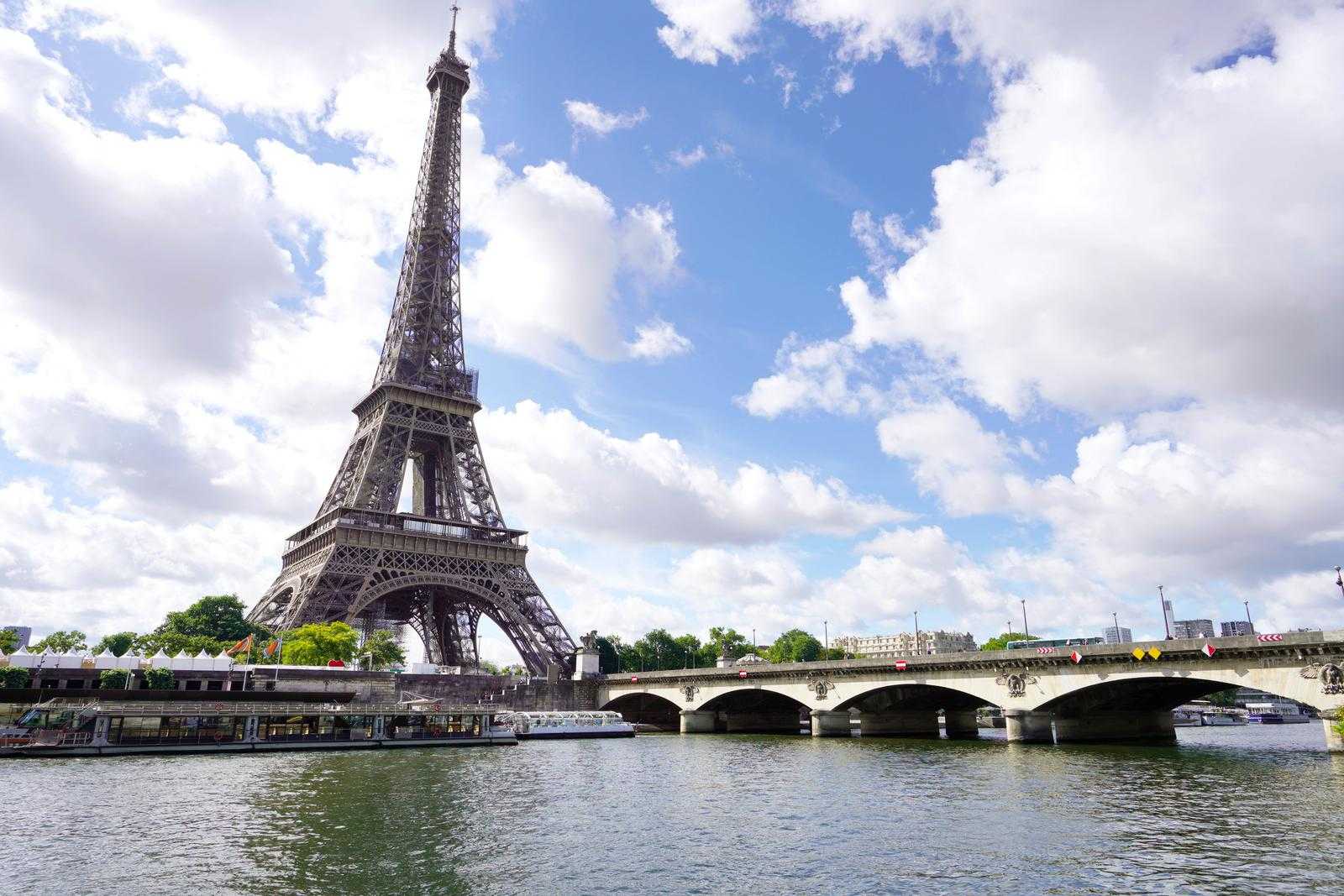 We are a group of travelers who love to explore and write about Paris. Over the years, we have gained extensive experience with cruising on the Seine River in Paris. Here, you could find all the essential information you need to know about Seine River cruises, including the different types of cruise, prices, tickets, operating hours, departure points, and many more. Bon voyage!