Seine River Dinner Cruise in Paris 2023 – Tickets, Price, Duration and Routes
Looking for a Seine River Dinner Cruise? You have come to the right place! We have gathered all the information you need to know about Paris Dinner Cruises, including recommended cruises, operating hours, duration, route map, tickets, prices, and essential tips.
Seine River Dinner cruises in Paris are very popular among many travelers in Paris. Although they are more expensive than Sightseeing cruises, they offer good value for money and provide a much more enjoyable experience.
A Dinner cruise usually takes about 2 hours, during which you can enjoy quite an extensive 3-course meal while the boat goes through the top Paris attractions like the Eiffel Tower, the Louvre museum, Notre-Dame Cathedral and many more.
You can find many Dinner Cruises in Paris – Some offer various extras such as a live guide or even live music throughout the cruise.
Here are the best Seine River Dinner Cruises in 2023!
Here is some of the best and recommended Seine River Dinner Cruises which you can find in Paris in 2023:
Which providers offer Seine Dinner Cruise in Paris in 2023?
Paris dinner cruises are very popular and you can find many well-known Cruise providers that offer Dinner Cruise: Bateaux Parisiens, Bateaux Mouches, Vedettes de Paris, Les Bateaux-Parisiens, Marina de Paris, Yachts de Paris, Capitaine Fracasse and Le Calife.
What is Seine River Dinner Cruise Tickets Price in 2023?
Like many things, the price of a Seine River dinner cruise in 2023 can be different depending on the provider you book with, the time of year, and of course – the type of cruise you choose. 
In general, you can expect to pay between €50 and €120 for a dinner cruise. The prices usually cover a meal consisting of three courses along with live music and a glass of champagne. Some cruises even provide attractions, like shows or a DJ.
Here is more specific details about tickets price of Seine River Dinner Cruises in Paris with each provider:
Company
Adult Price
Child Price
Bateaux-Mouches
€59
€49
Cityrama
€79
€69
Le Diamant Bleu
€89
€79
Paris Seine
€66
€56
Seine River Lunch Dinner route
Dinner cruise in Paris usually begins its journey at the Eiffel Tower sailing upstream and offering views of Paris famous landmarks such as the Louvre, Notre Dame and the Orsay Museum. It then changes direction and sails downstream, passing by notable sites, like the Grand Palais, and the Pont Alexandre III.
Seine River Dinner Cruise Duration
The length of a dinner cruise on the Seine River in Paris can differ depending on the package and operator you choose. The avrage dinner cruises along the Seine River usually span approximately 2, to 2.5 hours.
Here is Dinner Seine Cruise duration by each provider:
| Company | Duration |
| --- | --- |
| Bateaux-Mouches | 2 hours |
| Cityrama | 2.5 hours |
| Le Diamant Bleu | 2.5 hours |
| Paris Seine | 2 hours |
| Other companies | 1-4 hours |
Dinner Seine River Cruise FAQ
Here are some frequently asked questions (FAQ) about Dinner Cruises on the Seine River in Paris:
More useful information about Seine River Cruise in Paris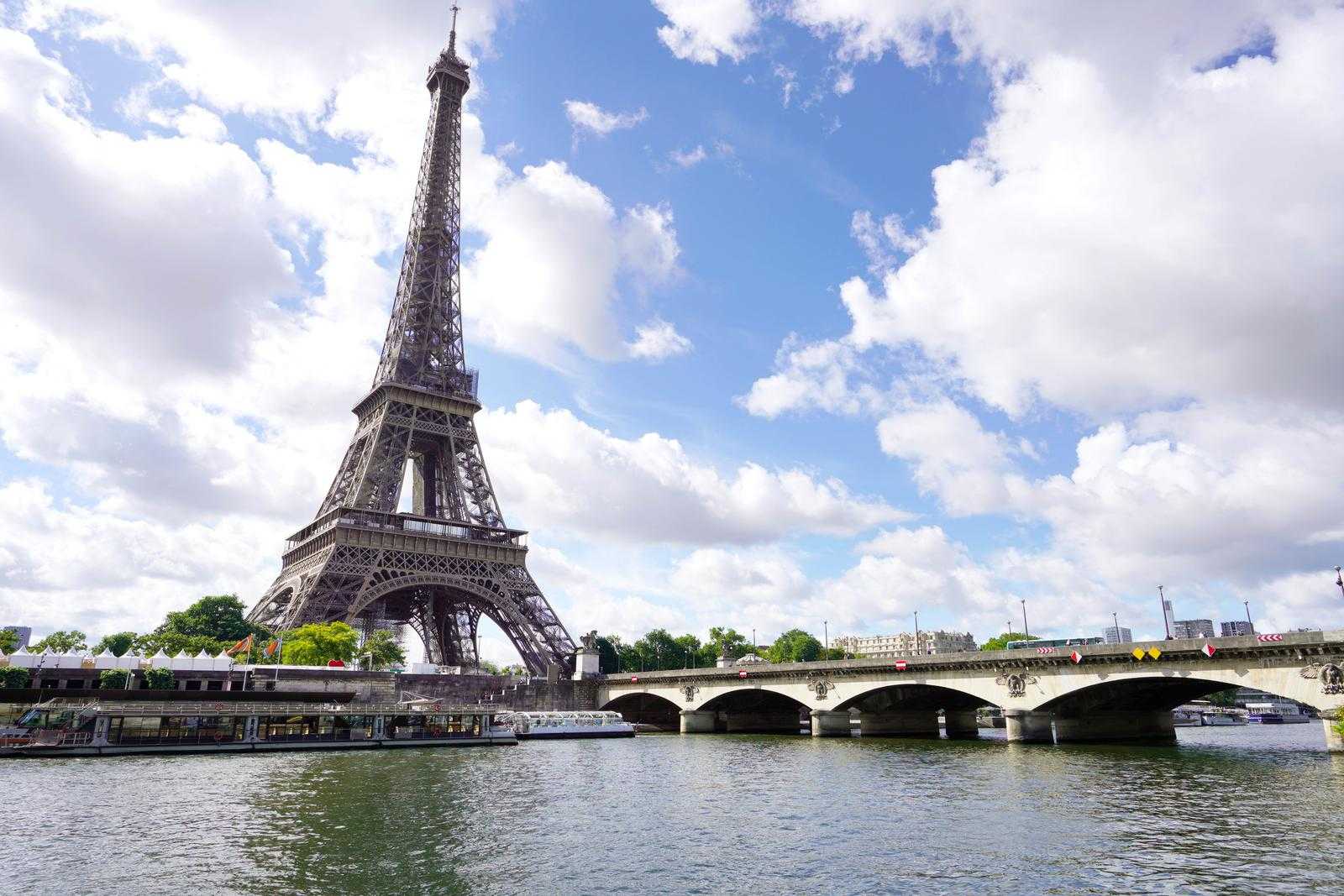 We are a group of travelers who love to explore and write about Paris. Over the years, we have gained extensive experience with cruising on the Seine River in Paris. Here, you could find all the essential information you need to know about Seine River cruises, including the different types of cruise, prices, tickets, operating hours, departure points, and many more. Bon voyage!