Seine River Cruise in August
Are you planning to take a Seine River Cruise in August? Check which types of Seine River cruises you could find during this time of the year? How much do they cost? What is the weather like? And what do you need to wear?
August in Paris is one of the most popular times to visit the city, with millions of travelers from around the world coming to enjoy its attractions and the great atmosphere. One attraction not to be missed is taking a cruise the Seine River.
If you are also planning to take Seine River Cruise in August, This is the place you need to be. Come and learn what types of cruises you could find, learn about the average prices of these Cruises, and get to know what is the whether and what to wear. Let's get started.
Here are the best Seine Cruise in August:
What types of Seine Cruise you can find in August?
During the month of August you can discover a variety of Seine River cruises in Paris that cater to preferences and interests of travelers. Here are some offered cruise options during this time:
Classic Sightseeing Cruise: Undoubtedly the popular and widely available type the classic sightseeing cruise offers a delightful journey along the Seine River providing glimpses of Pariss iconic landmarks and renowned monuments such as the Eiffel Tower, Notre Dame Cathedral, Louvre Museum and more. These cruises typically last for about 1 to 2 hours, offer informative commentary about the sights along the way.
Dinner Cruise: For an indulgent experience you have the option to choose a lunch or Seine dinner cruise. These cruises combine sightseeing with onboard meals.
Evening or night Cruise: Known for their ambiance and captivating vistas as dusk settles over the city, evening or night cruises are highly sought after. The illuminated landmarks, including the enchanting Eiffel Tower create a magical atmosphere during these hours. Sunset cruises present an opportunity to capture breathtaking photographs of Paris bathed in warm golden light.
More options: Consider embarking on a wine tasting cruise if you're passionate about wine. These cruises offer a selection of exquisite wines accompanied by expert guidance on tasting notes and food pairings.
For those seeking entertaining experiences, some cruise operators offer themed cruises such as jazz cruises, dance parties or even cruises dedicated to exploring the history of the Seine River and its impact on shaping Paris. These themed cruises provide a way to discover the city and you can find all of them in August.
If you prefer a personalized touch indulge in a private charter experience, private cruises allow you to tailor the route, duration and onboard services according to your preferences. They are perfect for gatherings, celebratory occasions or creating unforgettable memories.
Alternatively opt for hop on hop off cruises that mirror the convenience of their bus tour counterparts. These flexible cruises let you explore Paris at your pace by allowing embarkation and disembarkation at designated stops, along the Seine River. This grants you freedom to visit attractions or neighborhoods at your leisure.
What is the price of Seine river cruise in August?
The cost of a Seine River cruise in August can vary based on factors, including the type of cruise, its duration, the amenities available and the specific cruise operator. Typically prices are higher during Augusts peak tourist season compared to times of the year.
Below are price ranges for different types of Seine River cruises in August;
Classic Sightseeing Cruise: A standard sightseeing cruise that usually lasts 1 2 hours typically costs around €10 to €25 per person.
Lunch or Dinner Cruise: An extended cruise that includes a meal, such as lunch or dinner can range from €50 to €150 per person. The exact price depends on the quality and type of cuisine provided.
Evening or Sunset Cruise: Cruises held during evening hours those around sunset known for their romantic ambiance have prices starting at around €20 and reaching up to €50 or more per person.
Private or VIP Cruises: Private charters or VIP experiences on boats can be quite expensive and may cost anywhere, from several hundred to several thousand euros. The final price depends on the level of exclusivity and additional services offered.
What is the average whether in Paris in August?
The average daytime temperature in Paris during August ranges from 25 to 28°C (77 to 82°F). However there may be heatwaves where temperatures can exceed 30°C (86°F). In the evenings the temperature usually cools down to around 15 to 17°C (59 to 63°F).
August is known for its sunshine in Paris with approximately 8 to 9 hours of sunlight per day. This provides opportunities for outdoor activities and sightseeing.
Although August is generally a drier month in Paris there is still a chance of showers and thunderstorms. On average the city receives 50 to 60 mm of rainfall during this month.
Humidity levels can be moderately high in Paris on warm days. However it's not as humid as some cities in continental Europe.
When packing for August in Paris its recommended to bring breathable clothing such as summer dresses, shorts, t shirts and light layers for cooler evenings. Don't forget walking shoes for exploring the city. It's also wise to have an umbrella or a light rain jacket, on hand in case of unexpected showers.
More useful information about Seine River Cruise in Paris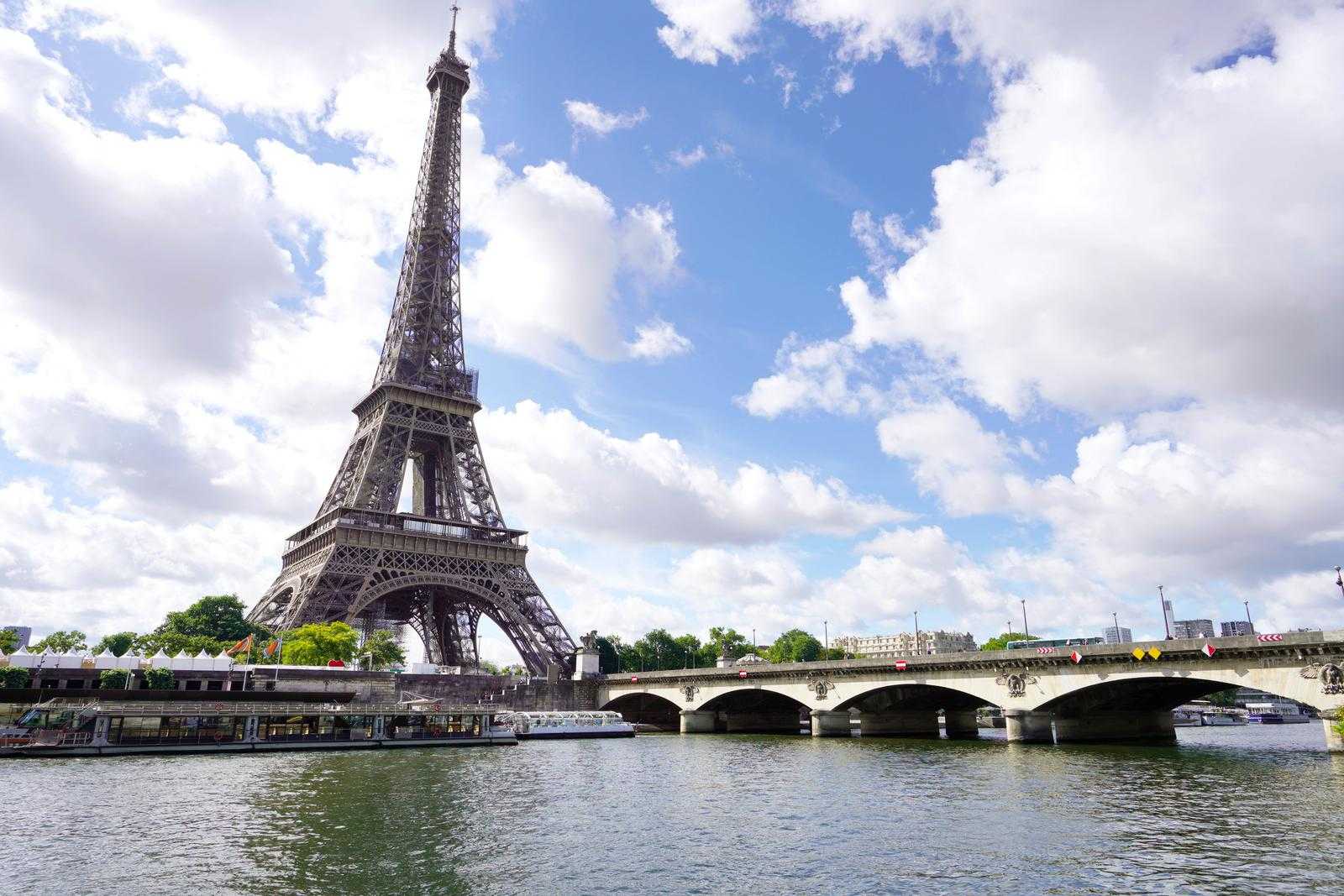 We are a group of travelers who love to explore and write about Paris. Over the years, we have gained extensive experience with cruising on the Seine River in Paris. Here, you could find all the essential information you need to know about Seine River cruises, including the different types of cruise, prices, tickets, operating hours, departure points, and many more. Bon voyage!